×
Book Direct & Save
Book Now
The golden arches are calling your name! Discover the magic of Northern California when you stay at our youth hostel in San Francisco, CA. This city is a hub of excitement, famous for its ocean-to-table dining, diverse culture, rich history, and (of course!) Golden Gate Bridge. From walking the waterfront to riding a cable car to exploring colorful gardens – the City by the Bay has much to offer. Experience it for yourself with a stay at the Amsterdam Hostel!
The Amsterdam Hostel in San Francisco offers a variety of rooms to fit the needs of all those travelers who are looking to explore iconic San Francisco while staying on a budget. Each of our dorms and guestrooms offers modern amenities like complimentary WiFi, cable TV, and daily housekeeping. Our property also offers access to a large kitchen area and lockers available for secure storage. Whether you are a single backpacker, student explorer, or group of friends building memories together, we have a play for you!
Welcome to the ultimate San Francisco location! We are where you want to be – in the heart of downtown San Francisco (i.e., the "Tourist District"). Our location is a step away from world-class shopping, restaurants, bars, great art galleries, and more. What's more? We are also within proximity to top attractions like the Golden Gate Bridge, Fisherman's Wharf, Golden Gate Park, Alcatraz Island, and Union Square. What will you get up to during your stay at the Amsterdam Hostel in San Francisco, CA?
SURROUND YOURSELF IN COMFORT AT THE AMSTERDAM HOSTEL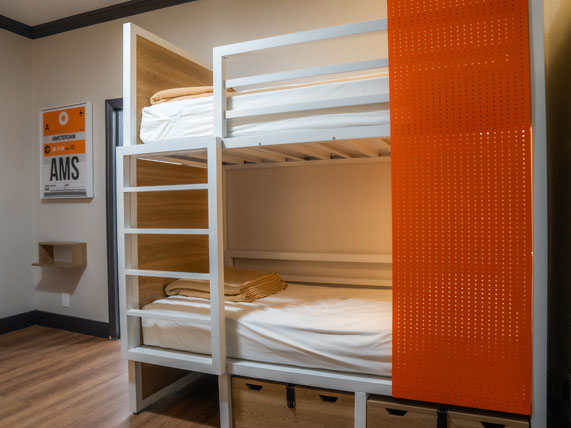 Amsterdam Hostel offers a variety of clean and spacious rooms to fit the needs of travelers looking to explore the iconic city of San Francisco on a budget. Guests of our hostel can choose from a variety of accommodations to match your travel preferences. The Amsterdam Hostel San Francisco offers budget-friendly lodging along with many helpful amenities designed to enhance your stay.
The only thing that can make your San Francisco journey even better is an outstanding deal from the Amsterdam Hostel. When you visit our Downtown San Francisco hostel located near Union Square, be sure to take advantage of these specials and packages to get the best rates online.

The Amsterdam Hostel in San Francisco is my new favorite place to stay when visiting The City. The location is ideal. It is within walking distance to many popular attractions and the best shopping in the city and a short drive from the rest. The dorm room was pretty fantastic and served all my needs: It was clean and had all the amenities that I required for a relaxing time. I can't wait to stay here again!
My friend and I stayed at the Amsterdam Hostel on our vacation to San Francisco. We were on a tight budget, and the female dorm rooms here were just perfect for us. The staff is amicable and helpful. We also made a lot of new friends here, which was great! We both slept very well on the comfortable beds after a full day of sightseeing throughout San Francisco.
ADDRESS:
749 Taylor St San Francisco, California, USA 94108
AMSTERDAM HOSTEL
san francisco